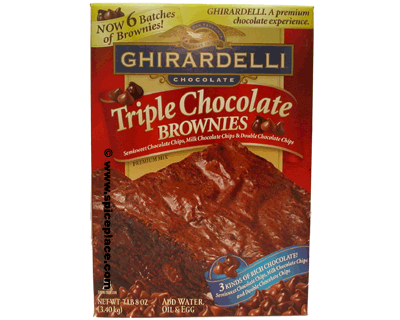 Okay, so I killed my 'diet' today...okay so for the past few days. Not really a diet, but a needed permanent break from my normal diet of chocolate and cookies.
It all started at Costco on Friday. My kids were begging for treats. Cause they are used to me making them everyday. No joke, homemade cookies every day. or close to that. So they are probably shaking from the sugar drought as well. (No lectures please, cause they have currently consumed more veggies than I did as a child. Drenched in ranch of course, but they still go down) And we saw the box of
Ghirardelli
brownies. So I thought, sure why not? And we cooked one package that day.
I would just like to dare you to not eat a brownie when you have cooked them in your house. Especially when they are the best kind ever. And slightly gooey.
My next excuse is that while we were at
costco
we sampled some gourmet caramel popcorn with milk/white chocolate stripes on it. So we bought some of that...and polished off one bag today. Me and the kids. Like a party.
And then I got a new
visiting teacher
this month and she gave me a package for mothers day, which was so heavy I thought it was a candle, but when I got home, no it was a candy container with my favorite Hershey's nugget with almonds and toffee. And out of her kindness I had to eat ten of them. And five more as I thought about this potential post. Because they are my favorite and I love them. And I forgot how chocolate is wonderful.

(

Special side note

on the brillant inspired idea of

visiting teaching

from the Mormons. In a nutshell, every member of the congregation is assigned a few members of the congregation that they are asked to visit monthly and help out and then report back each month how its going...we bring treats, or a plant, share a spiritual thought and just chat and check up. Sometimes we bring meals if the person is needing it or throw a baby shower, whatever. for more information on this genius idea go see lds. org or call your local 19 year old missionaries to explain it to you..is that a plug or what? And you say we don't believe in Jesus people, what is more Christian than that?...okay, off my soapbox....if you read this earlier, like an hour ago, this has been revised, cause who wants to hear me babble more?)
But all garbage eating aside, I feel terrible. Its not worth it. Not really. Fleeting moments of pure bliss times an hour more of exercise or salad eating. So tomorrow its back to the grind. Back to the puny two hour goals...cause I was diving into that tasty popcorn by 9:32 a.m. I was cocky, and thought I could sample the nectar and keep it under control. I was wrong. But even though I'm a quitter... I am also a re-starter, so here goes round 2. And my running buddy is out of town, so I haven't been going as far, but have been listening to some tunes.
Does anyone want to pick up my remaining chocolate? Because I'm not sure its safe at my house. No joke.